Apostolska, Aleksandrovski & Partners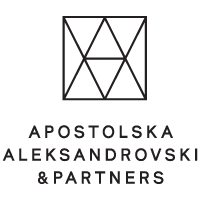 Taking a fresh approach to the provision of legal services, Apostolska & Partners offers a client-focused service in key areas of law that have meaningful impact on the operations of businesses operating in North Macedonia.
The firm fosters a technology driven culture that puts clients at the forefront by offering tailor-made solutions in response to their challenges and needs. The firm builds strong and progressive attorney-client relationships in order to provide the highest level of client service. Apostolska & Partners works to gain an in-depth understanding of the industry and operations of its clients and to provide legal advice in line with their business strategy, mindful of how it will affect their overall business operations. Clients receive a consistent level of service and attention from Apostolska & Partners, regardless of the scale and scope of services. The firm strives to bring value to clients and measures success on client satisfaction, understanding that any matter, regardless of size, is important to a clients' business. By offering unique, tailored solutions and individualized attention, Apostolska & Partners provides a safe and predictable legal environment for businesses to grow in. The strong educational backgrounds of the firm's lawyers, together with the firm's enthusiasm, expertise, commitment and usage of modern technologies guarantees a top quality service that regularly exceeds client expectations.
The firm is fully capable of handling deals and cases of any size or complexity to meet the wide ranging needs of its client base. The firm has built strategic relationships with international law firms, consulting firms and independent experts to offer a wider scope of services to clients. Apostolska & Partners has extensive experience and an expanding client base, serving all types of clients including small, mid-size and large multinational international and domestic companies, international organizations and financial institutions, across all industries of business.