In today's global economy multinational companies manufacture and sell products across the globe. The environmental risks are complex and vary cross-borders. A clean environment and the reduction of toxic emissions and pollutants that adversely affect the environment are important to multinational companies. Although environmental infrastructure remains underdeveloped across South East Europe, the importance of the sector, coupled with the urgent necessity for investment has triggered significant IFI financing and has presented a high number of opportunities for investments in environmental infrastructure.
SELA places a large significance on environmental law and our experts apply their expertise in this area when advising on infrastructure, energy, mining, waste management, manufacturing, construction, transport and various mergers and acquisitions. We are able to provide both stand-alone and transactional advice on all major areas of environmental law at both a national and regional level. Paying close attention to regulatory compliance issues affecting production, business processes and transactions, we provide specialty expertise that is commercially focused on environmental policy. We are fully equipped to work with policy makers on new and changing legislation in this area and regularly advise on a wide range of regulatory issues affecting the business of our clients. From infrastructure projects to major acquisitions, sales or cross-border due diligence investigations, SELA's network of legal experts ensures that your business gets high quality, commercially sound environmental and regulatory advice in each of our jurisdictions. Our sector specific insight helps clients deal with the legal and commercial implications of their business on environmental law and our long-standing expertise ensures that you stay abreast of new and changing legislation in this area. We assist clients with day to day issues that need to be addressed to maintain compliance, legal claims, litigation, permitting, licensing, regulatory and legislative advocacy, as well as on dealing with issues inherited in commercial transactions and on the development of Greenfield projects. Whatever the issue is, our experts provide innovative and commercial solutions.
News
CEE Legal Matters and CEE LM Direct Winter Gala, an annual end-of-year celebration and networking event, was held in Belgrade
Read More »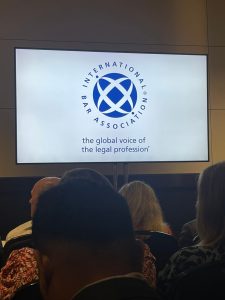 Events
Annual Conference of the International Bar Association (IBA) held in Miami, from 30 October to 4 November, gathered thousands of lawyers from all
Read More »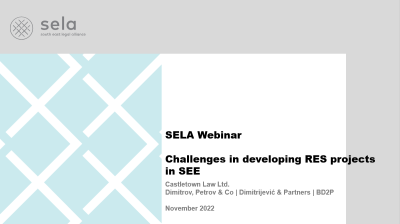 Insights
Webinar on "Challenges in developing RES projects in SEE" organized by SELA team was held on Thursday 24th November 2022.
Read More »