Preventive Approach
With data protection increasingly in focus with European regulators, it is even more important to be on top of the latest developments that affect the regulatory environment in this area of law. The protection of personal data in this digital age is even more relevant in today's digitally connected world. Because the global economy is becoming smaller and smaller, the processing and transfer of personal data has become a large concern, especially in innovative and highly regulated industries. Our experts understand how costly and damaging a data breach and consecutive legal action can be, which is why we take a preventive approach to advisory on all data protection and privacy compliance matters. We are there to help our clients mitigate potential risk and gain the advantage over their competition. SELA's legal experts closely monitor all of the latest regulations that are being put in place to keep people's private information safe and are fully aware of the implications of data protection regulations on our clients business. Our data protection specialists have multi-disciplinary expertise in areas such as employment law, financial services, and intellectual property, as well as niche expertise in highly regulated industries such as telecommunications and information technology.
Services and Expertise
Our team of regional experts offers services and advice on personal database registration, regulatory compliance, data transfer and approval procedures. We assist clients with forming company policy and drafting comprehensive legal contracts to help them stay abreast of the latest legislative changes and to protect them from potential reputational and financial risks. Our data protection experts particularly specialize in cross-border matters and have broad experience advising clients in each of our jurisdictions, which enables them to offer insight into how to streamline processes and to successfully manage the differing regulatory regimes. We actively participate within our local communities in efforts to make legislation more business friendly and are dedicated to raising awareness through contributions to industry publications and by taking speaking roles at events related to the topic.
Don't take it from us
The member firms of SELA come highly recommended by leading international legal directories such as Chambers & Partners and Legal 500. '
Excellent' Dimitrov, Petrov & Co has 'very good TMT industry knowledge'. – The Legal 500 2018, TMT
Dimitrov, Petrov & Co. "They are able to analyse an issue from many different angles and are not afraid to try new approaches for its resolution." – Chambers Europe 2018, TMT
Dimitrov, Petrov & Co.: "Stellar IT and telecoms law firm with significant knowledge in the area of electronic government and data protection." – Chambers Europe 2017, TMT
Dimitrov, Petrov & Co.: Market leader Dimitrov, Petrov & Co's 'experts have a thorough understanding of the IT and new technologies sector', with George Dimitrov having 'a deep knowledge of the local market and specific industry-related legal issues'. In addition, head of telecoms and media Hristo Nihrizov is 'extremely dedicated', and recently promoted partner Desislava Krusteva is a data protection specialist. The team's clients include Google, Telenor Bulgaria and Fox Networks Group." – The Legal 500 2017, TMT
News
CEE Legal Matters and CEE LM Direct Winter Gala, an annual end-of-year celebration and networking event, was held in Belgrade
Read More »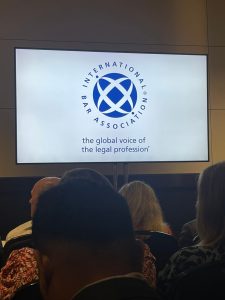 Events
Annual Conference of the International Bar Association (IBA) held in Miami, from 30 October to 4 November, gathered thousands of lawyers from all
Read More »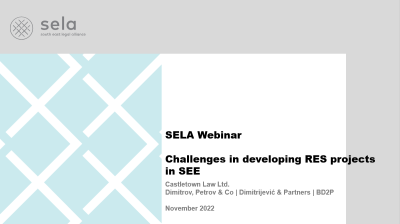 Insights
Webinar on "Challenges in developing RES projects in SEE" organized by SELA team was held on Thursday 24th November 2022.
Read More »